Why Occam? "Occam Design is an innovative leader in developing, engineering, and manufacturing the highest-quality medical devices that meet customer and regulatory standards. Our expert engineers, technicians, and machinists, coupled with comprehensive manufacturing capabilities, provide advanced and reliable solutions to the most challenging problems.
Occam's engineers have consistently known our projects as well as we do. From ideation, to prototyping, to manufacturing at volumes required for product evaluations, Occam's design and production engineers have served as an effective and cost-effective extension of Cerovations' capabilities.
Joe HofmeisterCo-Founder/President Cerovations, LLC
OCCAM was our first choice. They have expertise in design, engineering, manufacturing, as well as regulatory. They are very accommodating, knowledgeable, and accessible. They are willing to reach creative grounds that make it easy for us to implement some of the solutions they've developed for us.
Your work was organized, fair, and insightful. Your team was an absolute pleasure to work with and had a great balance of professionalism and personality.
EVP, Fortune 1000 Company
We felt we needed more analytical firepower, so we called the guys at Occam Design.
CEO, Leading Stent Company
Throughout the project, the entire Occam Design team demonstrated high degrees of competency and professionalism.
CEO, Leading Catheter Company
Your analysis and recommendations were completely clear, rational and contrary to what we had thought the answer was.
CEO, Leading Medical Device Company
New Facility
100,000 square foot facility

Clean Rooms
10 clean rooms, 5 of which are Class 10,000-certified

Medical Device Development
From napkin sketch to market

Quality Testing
ISO 13485 Certified, FDA registered, GMP compliant

Electronics Design
Electronics design and manufacturing capabilities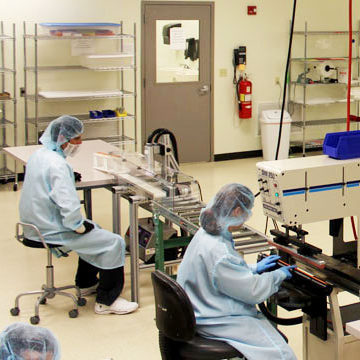 Whether you have a great idea that will improve the quality of healthcare and medicine or want to re-design an existing product, at point you will be overwhelmed by the cost, resources, regulations, expertise and engineering services needed to get your product to market. Outsourcing allows you to keep your organization focused on it's core strengths and capabilities while leaving all stages of product development to an experienced team like OCCAM, to ensure your product is successful and gets to market faster.
Occam Design's COVID-19 Statement
Occam Design is open and working hard to get your medical device to the market, while the safety and well-being of our customers and employees remains a top priority.
As the COVID-19/coronavirus situation evolves, we want to assure you that we are taking every precautionary measure and adhering to all recommendations from public health officials. Additional preventive measures are being taken to keep our employees and visitors safe, including:
• Social Distancing is strictly enforced (6′ minimum)
• Employees and visitors are required to wear a face covering upon entering the office
• Workstations and common areas are sanitized frequently
• Wellness checks are conducted at the beginning of each employee's shift
We are closely monitoring the CDC for updates and are in contact with regulatory officials at the federal and state level to be able to quickly institute any additional health and safety processes and procedures that may be needed.
We know this is a difficult time for everyone, and we want to reassure you that we are putting our employees' and visitors' health, safety, and well-being first.
Stay safe and thank you for visiting Occam Design!