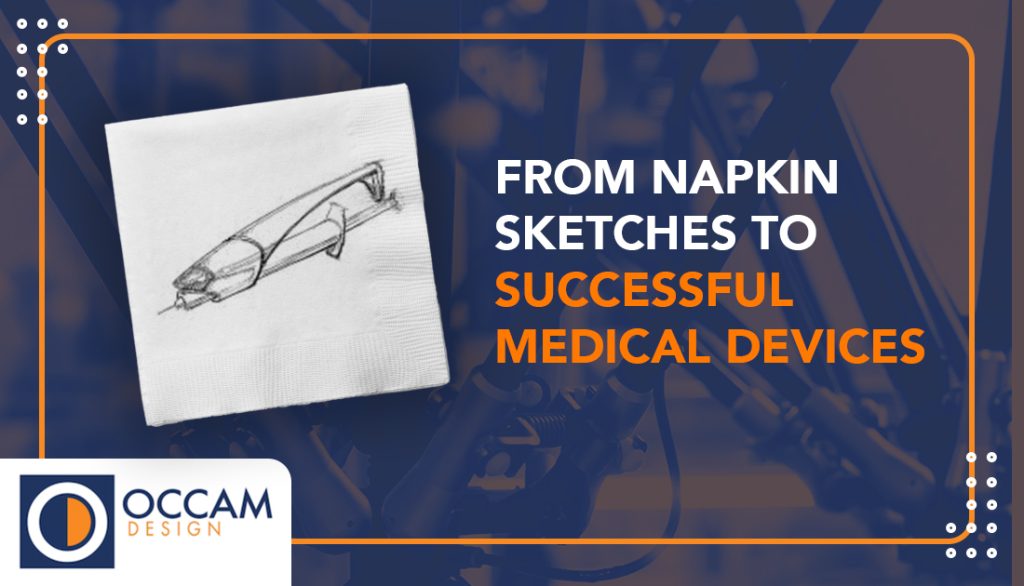 THE IDEA
From conceptualization to finalization, designing medical devices requires a unique thought-forward approach. At OCCAM Design, we have had clients approach our team with full design ideas and direction that they hope to provide, but we have also been presented with singular thoughts that begin as a napkin sketch and are developed into functional and prosperous designs. One example of this process began with an idea from Dr. Salzman to attach a small vaporcoolant can to a syringe and spray the skin right before sticking with the needle to provide minor anesthesia. From this thought, the Ouchless Needle was born.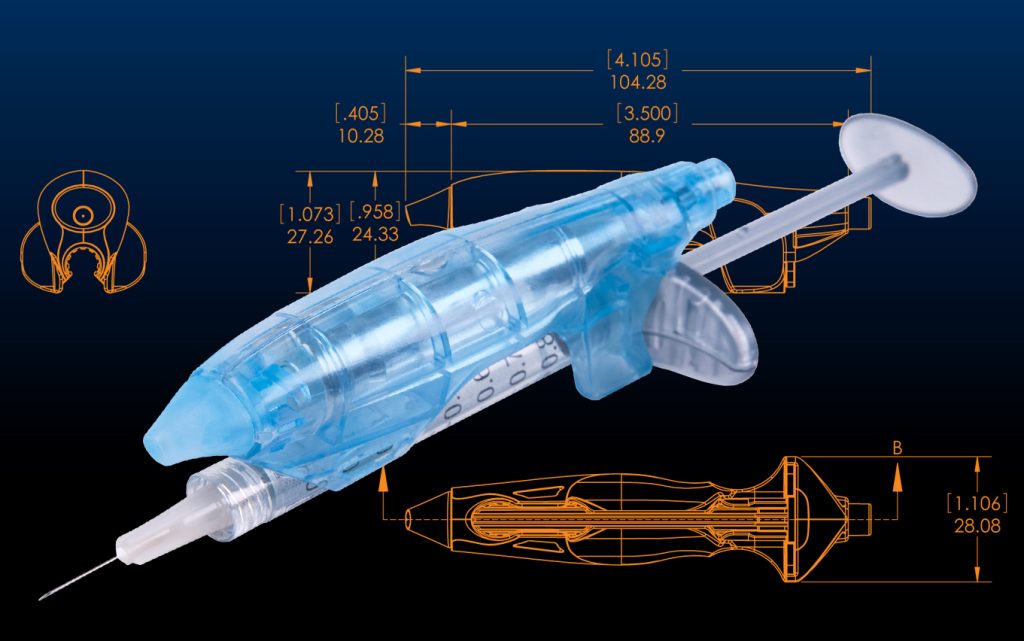 THE PROCESS
With this idea, we developed a small spray can that would hold vapocoolant. This spray can had to be an appropriate size that would spray just the right amount in an area small enough for a needle to penetrate the skin with no pain, but not too large that you are numbing an unnecessary circumference of skin. The idea was that the spray would instantaneously cool the skin and the patient would not feel the puncture of the needle.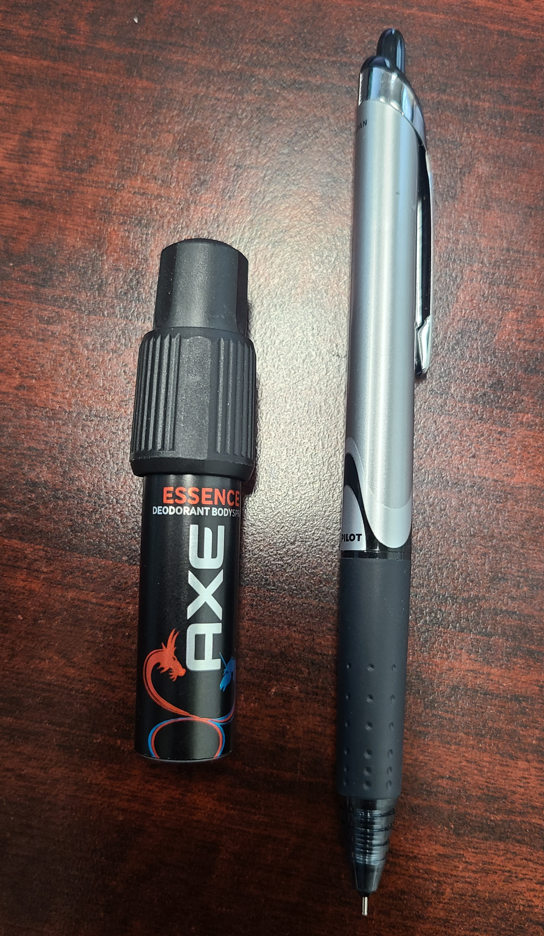 Our team at OCCAM had to first provide industrial sketched designs of this product. Then we would design injection molded parts to closely represent the original idea shown in the sketches above. We needed to design the smallest aerosol can in the world from scratch. So where did we start? Axe body spray was the smallest can available that we could find to study and observe in preparation for our design, but this concept would never work. It needed to be smaller than this can and it needed to spray in the direction that the needle would inject.
Knowing that this can was too large, we developed our own aluminum can that would be proportionate to the size of the needle and syringe. Our next step was to create an injection molding tool to create the can for this product. Creating a new medical device requires following several steps. Step one of this process is Concept Development when we create the concept of a new design. This is the "napkin sketch" step. We identify the industry need for this product and develop a solution to meet that need. We will brainstorm as a team, conduct market research, and participate in prototyping. Then the next step as mentioned before is Design and Engineering. In this step, we create detailed specifications, develop schematics and blueprints, bring the regulatory plan together, and create the prototype! 
So what comes next? In step three, Prototyping and Preliminary Testing, we must test the medical device to ensure that it meets design specifications and functions properly. We may conduct user testing, stress testing, any required regulatory testing, and other types of testing to refine the medical device design. The next step is creating packaging and then design validation and verification build and testing, followed by processes validation and transfer to manufacturing. During this time, OCCAM will locate a manufacturer, source materials, and set up a production line all while meeting quality and safety standards. In parallel, we are compiling a regulatory package and submitting it to FDA and/or other regulatory bodies.
In the fifth step, Distribution, set up a distribution network. The final step, Sales and Marketing, is when we will promote the new product and drive sales! From creating a marketing strategy to developing advertising campaigns and building relationships with retailers.
THE DEVICE
When creating a "napkin sketch" design, like the Ouchless Needle, the general steps that you can expect our team to follow include the process explained above, but additional steps may be required. Sometimes, the additional steps can be more challenging, but at OCCAM, we are not afraid of a challenge and are excited to find solutions that will make your product successful.
In this "napkin sketch" device process, we would research your idea, validate its market demand, talk with potential customers, conduct research, and explore competitors. We will then develop a plan for conception, review your goals, financial expectations, and target market. The third step in this process is to create the prototype as previously discussed. Next we will protect your intellectual property, can assist you in your search to secure funding, and will move into the general launch of your product. Every device design's process is circumstantial and may be unique to the category that your device falls into.
We look forward to taking your "napkin sketch" and turning it into a product as successful as the Ouchless Needle to your intended audience. This process requires careful planning, execution, and perseverance which our team at OCCAM Design is well-equipped to handle. Through combined efforts and the ability to be flexible in changing market conditions, your design could be the next industry-leading product. Contact our team today to discuss your "napkin sketch".